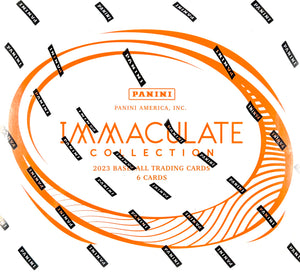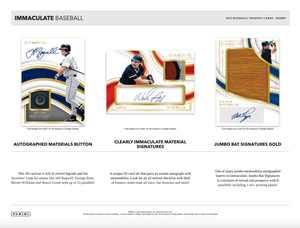 2023 Panini Immaculate Baseball Hobby Box
6 cards per pack, 1 pack per box.
4 Autographs and 2 Memorabilia hits per box, on average!
--
PRODUCT HIGHLIGHTS
- Look for 4 autographs and 2 memorabilia cards per box.
- Look for 8 on-card autograph sets that feature shadowboxes, autographed material, triple material autographs, dual players and more!
- Jumbo material is back! Immaculate is the only program you will find this unique material from loads of top 100 prospects!
- Immaculate is full of Hall of Famers and other legends of the game. From Hall of Fame Jumbo Materials to the amazing Quad Legends Memorabilia, 2023 is sure to please.
- Look for these new designs including, Immaculate Black Materials, Prime Prospects Materials, Immaculate Moments and more!