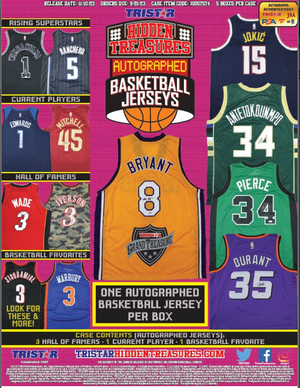 2023 Tristar HT Autographed Basketball Jerseys Series 3 Box
1 Autographed Basketball Jersey per box!
Look for stars like Kobe Bryant, Victor Wembanyama, Giannis Antetokuompo, Nikola Jokic, Allen Iverson, Dwyane Wade, Kevin Durant, Paul Pierce, Paolo Banchero and more!
*This is for one autograph jersey box from a 5-box case.*
Case contents include: 3 Hall of Famers, 1 Current Player and 1 Fan Favorite!